Valle di Casies
The Casies Valley stretches from Monguelfo in a northerly direction for 18 km. The first village on the way through the valley located between the majestic peaks of the Vedrette di Ries Mountain Group and Deferegger Alps is Colle located at 1260 m a.s.l., afterwards you reach San Martino and finally Santa Maddalena at 1400 m above sea level.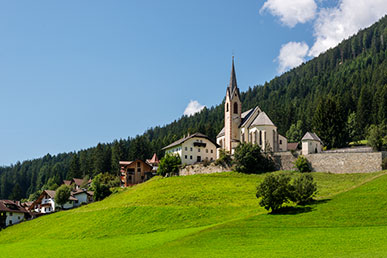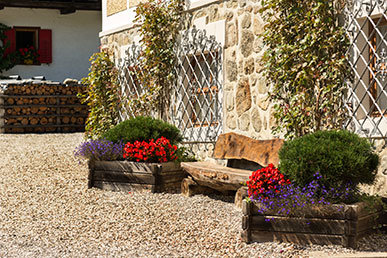 Every village in this valley has a small artistic jewel to offer. In Colle you can visit the Saint Nicholas parish church constructed in 1472 and reconstructed in new-gothic style in 1879. The San Martino parish church in San Martino was originally a gothic building, which was later redesigned in baroque style. The Santa Maddalena parish church can be visited in the village of the same name. The church was first constructed in late-gothic style, changed into baroque style and finally reconstructed in the original style.
The most famous person in the Casies Valley is Joachim Haspinger, a Cappucino Friar who played an important role during the Tyrolean uprising against the French and Bavarians in 1809. Father Haspinger was born at the Speckerhof farm in Santa Maddalena in 1776. He died in Salzburg in 1858 and was buried in the Hofkirche (Court Church) in Innsbruck. In 1959 a bronze memorial by Othmar Winkler was realised in his honour in San Martino. The Father Haspinger House was constructed in 1909 in San Martino for the 100-year jubilee of the Tyrolean uprising. In the house you can admire a reproduction of the famous picture "Der Landsturm" by Albin Egger Lienz.