San Lorenzo
San Lorenzo is located at 810 m above sea level in the valley basin of Brunico at the confluence of the the Gader and Rienza rivers. Splendid mountain scenery - amongst others the peaks of the Vedrette di Ries Mountain Group surrounds this community with its hamlets Mantana, Onies, Elle, Ronchi, Palù, Floronzo, S. Martino, Sares, Santo Stefano and Castelbadia.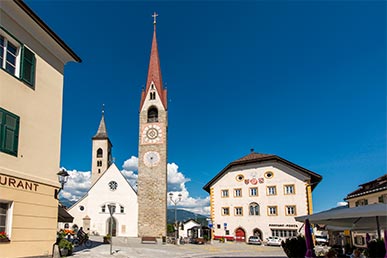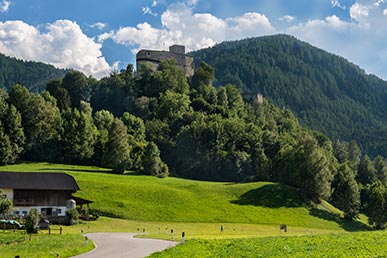 At the entry of the village coming from the west you'll see the imposing Sonnenburg Castle. The castle was constructed by the counts Lurn and Val Pusteria, but was changed into a Benedictine Convent in 1020. Nothing changed until Emperor Joseph II ordered the closure of the convent in 1785. In the crypt of the church you can admire medieval frescos. Now, the castle hosts a luxury hotel.
San Michele Castle was constructed in 1091 on a rock in the southern part of San Lorenzo and is one of the most important castles in the western part of the Puster Valley. Nowadays, the castle is privately owned.