Caldaro
Caldaro on the Wine Road is one of the most popular holiday resorts in South Tyrol. The market village lies at the beautiful Caldaro Lake, set in peaceful vineyards in front of the splendid backdrop of the Costiera della Mendola.
Caldaro consists of a total of nine hamlets. The centre of the village is dominated by the "Oltradige" style of architecture, which had its heyday in the second half of the 16th century and gives the village a flavour of the south.
The Caldaro market , with its good restaurants and sunny cafés, is a popular meeting point Here stands the parish church with its tower over 72 metres high and the pretty village fountain, of which the inhabitants are particularly proud. Quite close by you will also find the South Tyrol Wine Museum, where there are exhibitions of old wine presses, barrels and cellar equipment.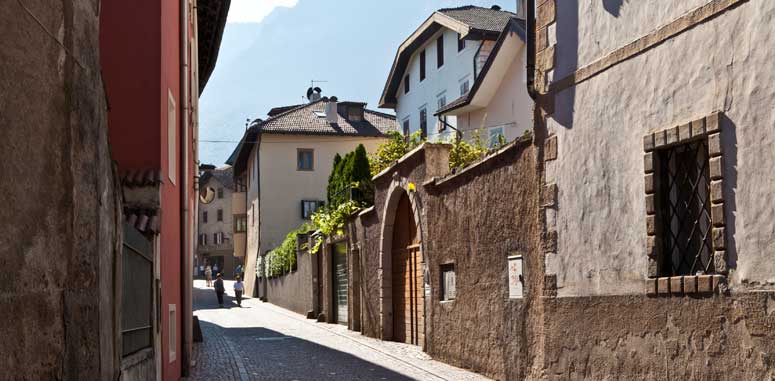 The whole district offers numerous highlights for a varied holiday programme. On the famous "Long Thursday" the shops open until late in the evening and at the Windegg Manor there is the traditional summer cinema, where twice a week films are presented on a screen in the inner courtyard. The Caldaro Lakeside Theatre also attracts people every year to its interesting cultural presentations.
However, Caldaro's most beautiful and well-known excursion destination is and remains Caldaro Lake with its excellent restaurants and the unusual bathing lake. It is known far and wide beyond the borders of South Tyrol and there is no better place for holidaymakers or local residents to go hiking, cycling or swimming. Hiking to the ruins of Castelchiaro, which towers over the lake, and to Laimburg, also called the Castel Varco should also be on your programme.
Opposite Caldaro Lake the Mendola, the "home mountain" of Caldaro borders the district. It is a traditional retreat in the hot summer months. You reach the pass either over the winding Strada di Mendola road or by the well-known Mendola railway. This was opened in 1903 and is Europe's steepest and longest funicular railway. The valley station is in the hamlet of S. Antonio.