S. Cassiano
S. Cassiano, in Ladin language San Ćiascian, is located at the bottom of the imposing Conturines rocks, of La Varela, Settsass and Lagazuoi, all of which are popular destinations amongst mountaineers.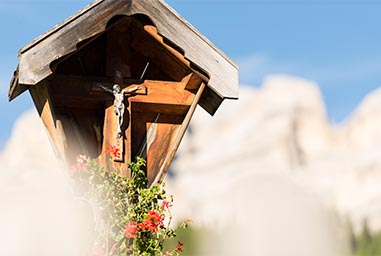 This village in Alta Badia is located at 1538 m above sea level and features modern cable cars, which can transport 3000 people per hour and connect the village with the ski resort La Villa and Corvara.
Armentarola, a village district of S. Cassiano, has a large campsite. From here you can enjoy numerous hikes in unspoiled landscape. During the winter months this area is very popular for its perfectly groomed cross-country tracks.
This mountain village offers a true treasure for palaeontologists, the Museum Pic' Museo Ladin. The museum is located in one of the oldest buildings at the village square near the church. Here you can admire the skeleton of the Ursus spelaeus, a pre-historic cave bear, and a large selection of fossils from the Dolomites area. This amazing finding dates back to 23rd of September 1987, when the mountain guide and hotel owner Willy Costamoling was hiking in the Conturines Mountains and suddenly entered a cave at an altitude of 2800 metres. In this cave he discovered the skeletons of more than 60 pre-historic bears. The results of an analysis show, that these mammals used to live in this area from 60,000 to 30,000 years ago. Further examinations on the bones and the DNA made clear, that the bones don't belong to the already known pre-historic cave bear, but an individual type, which was later named Ursus Ladinicus.