Trafoi in the Stelvio Nature Park in Venosta Valley
Trafoi in Venosta valley is a village with some 90 inhabitants at an altitude of 1,545 m a.s.l. Situated as it is in the Stelvio Nature Park, the village has developed, helped by the opening of Stelvio Pass, as a holiday destination. The first documentary reference to "Traful" dates back to the year 1300 - there is evidence of the existence of a Christian hermit living here as far back as 1221.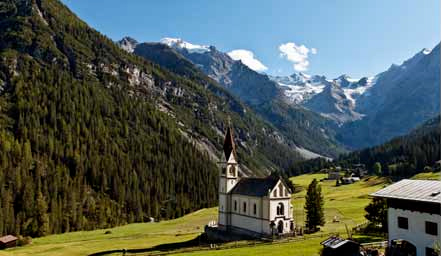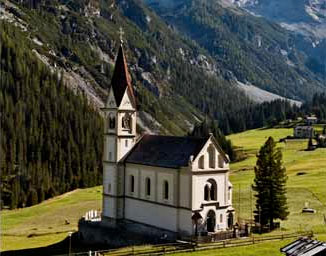 As far as the development of Trafoi for tourism is concerned, this did not begin until after the first ascent of the Ortles in 1804; however it also followed another event, which had happened a few years previously and which is connected with the story of Henry de Tourville, who murdered his wife, in order to gain control of her wealth. The event became news throughout Europe and journalists hurried to Trafoi to satisfy their curiosity. Today the little village in Venosta valley is principally known because of Gustav Thöni, the World Ski Champion in 1972, 1973 and 1975, who manages one of the hotels in Trafoi.
Trafoi is distinguished by its extraordinary panoramic landscape and its equally special flora and fauna. Gentians, orchids and thistles, as well as roe deer, red deer, marmots and red squirrels are native to this area.
Mention must be made of the place of pilgrimage of the Madonna of the Tre Fontane Sante, or Three Sacred Fountains in Trafoi. The legend tells that the place was almost forgotten by the inhabitants after the death of the last hermit, until a woodcutter decided to cut a tree nearby. Suddenly he heard a voice, which said: "Cut trees, but do not cut me down!" The man was terrified and fell to his knees; when he looked up he saw the face of Virgin Mary between the branches. From that moment on, the place was visited by many of the faithful and a little wooden chapel was erected there. It was sometime later that a stone chapel was built, which has become today a place for prayer and contemplation. Just like Trafoi itself, where you can enjoy a quite magical holiday.