Colfosco
Colfosco in Alta Badia is part of the 2 km distant community Corvara. The village is located at 1645 m. above sea level and hence the highest village in the valley.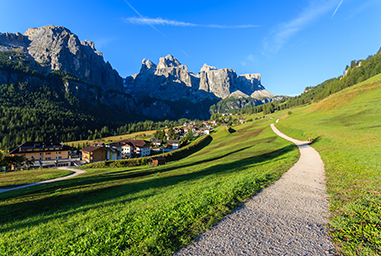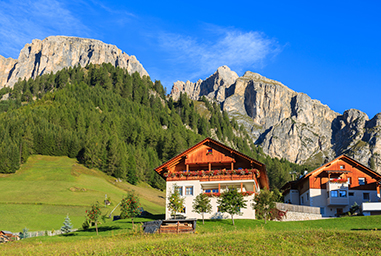 The village is surrounded by the Sella and Sassongher Mountains, which are not only imposing, but also offer many leisure time and sports options in summer and winter. During the warm seasons you can visit the Edelweiß Valley or enjoy hiking in the Puez-Odle Nature Park. A ski tour at Sella Ronda in winter is almost a must.
Worth seeing in Colfosco is the Parish Curch S. Vigilius along the path to Gardena Pass The patron saints of this gothic church are S. Vigilius and the Archangel Michael. Inside the church you can admire an altar dating back to the 19th century, which was constructed by Johann Valentin from Badia, and a representation of Mary dating back to the 18th century. The church was renovated several times between 1629 nd 1869.