Chienes
Part of the community of Chienes are the villages Casteldarne, San Sigismondo, Corti and the Monghezzo mountain ridge. Chienes is located at 748 m above sea level at the confluence of the Rio Verde into Rienza River along the Strada del Sole, which means the Sunny Road.
Between 1006 and 1039 Chienes was first mentioned with the name "Kiena" in a document by Hochstift Freising. Other assumptions about the origin of the village name make reference to "Castrum Chienes", a group of houses in the vicinity of todays' church in Chienes.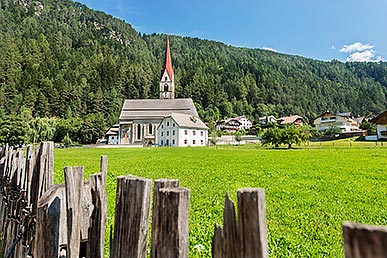 Worth seeing in this village is the S. Pietro and S. Paolo parish church which was constructed between 1835 and 1838. The tower dates back to the 15th century. The church ceiling is decorated with remarkable paintings.
At the bottom of Monghezzo lies the village of Casteldarne, which is also known due to Casteldarne Castle, and the milestone of the Roman emperors Septimius Severus, Caracalla and Geta. The milestone was discovered in the western part of the village in 1928.
Corti is a small hamlet with numerous scattered farms around the small gothic San Martino church. The church nave however still features Roman walls. Inside the church you can admire a winged altar dating from 1520.