Chiusa and environs
The village of Chiusa amidst vineyards and chestnut groves is one of the most beautiful destinations in the Isarco Valley. The town is surrounded by small and picturesque alpine villages.
Gudon is located at 734 m above sea level only 3 km from Chiusa. This village looks back upon thousands of years of history. Due to the surrounding mountain peaks it is also called the "village of seven hills".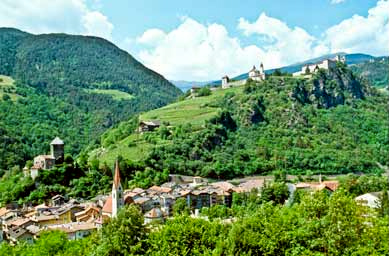 From Verdignes at 963 m above sea level you enjoy a fantastic view of the Dolomites and the Sabiona Monastery. Wine and chestnuts are typical for this area.
Latzfons at 1160 m above sea level is a secluded village far from the more visited destinations in the Dolomites and offers ideal prerequisites for summer and winter sports.
The historic town centre of Chiusa is one of the most picturesque towns in Italy. Since 2002 Chiusa is part of the Association of the most beautiful villages in Italy ("I borghi più belli d'Italia"). This picturesque village is characterised by small and medium-sized buildings. The bigger buildings were built only later and result from the combination of two or more residential units. The narrowest building in Chiusa is only 3 m wide and dates back to the 13th century.
Hiking along the Chiusa trail you reach Pietra di Dürer. This memorial was realised on a beautiful viewpoint. It reminds of the visit of a popular artist in 1494. The artist used to sit here and paint the town from above. Unfortunately the pieces of art disappeared. Only a copper engraving is still preserved.
In the Town Museum you can admire the Loreto Treasure, an art collection of incredible value, which was given to monk Gabriel Pontifeser from Chiusa by the Spanish queen Maria Anna.
From the historic centre you can follow the road to the Sabiona Monastery, which thrones above the town. Here you can visit the S. Andrea Parish Church and the Apostle Church. The gothic S. Andrea Parish Church was completed in 1498. The Apostle Church has been recently renovated. This is where German merchants used to pray before declaring their goods at customs.