Weather in South Tyrol
Today: Mostly overcast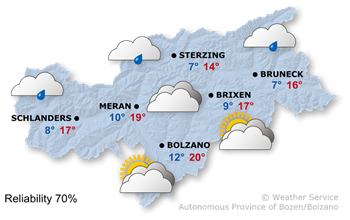 Mostly cloudy weather. In the North often overcast and in the afternoon some rain is possible. Maximum values between 14° and 20°.
---
Next days Weather forecasts: More sun from Sunday
Sun and clouds on Sunday, residual clouds in the northern and eastern parts of the region will dissolve during the morning. On Monday very sunny, only along the main crest of the Alps in the morning dense clouds. Tuesday and Wednesday lots of sunshine and temperatures will reach up to 25°.