Weather in South Tyrol
Today: Friendly conditions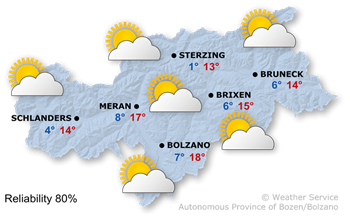 In the afternoon sun and clouds. During the following night some rain is possible in the area of Ultental and Passeiertal. Highest values between 10° and 18°.
---
Tomorrow: Cloudy and rainy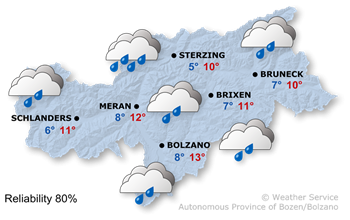 Overcast and during the day rainy all over the region. Intensification of the rain during the afternoon, in the evening and during the night also heavy rain. Snow limit at the beginning over 2100 m, sinking to 1600 - 1300 m during the night. Strong winds with the crossing of the front. Maximum temperatures between 8° and 13°.
---
Next days Weather forecasts: Rainy monday