San Candido
Located at the bottom of the majestic Baranci Mountain San Candido awaits you to discover the Dolomites. The community stretches along the shores of the Drava River and includes the hamlets of Versciaco, Prato Drava and Monte San Candido. Traces of the first settlement can be found in the remains of a village dating back to the 4th century B.C, constructed by Celtic tribes, who lived of livestock breeding and agriculture.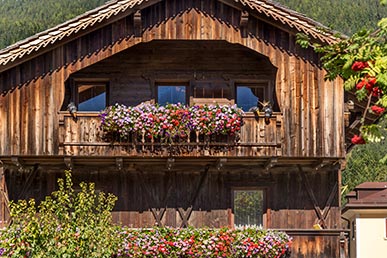 San Candido is located at 1175 m above sea level and is ideal for all those who love sports. There are plenty of cycling paths for tours with a bicycle or mountain-bike, and you can enjoy hiking or playing tennis or golf. The fresh mountain air and the unspoiled nature will accompany you at all times: during ski tours, cross-country skiing and climbing, and also during easy walks on sunny hills. From time to time you get to old farms, which can still be admired in this idyllic landscape, and enjoy tasty South Tyrolean specialities.

If you are not a sporty person, but simply want to enjoy a quiet and recreational holiday, you will find many shopping options with regional specialities in the pedestrian zone of the village. You can also enjoy a good glass of wine or participate at one of the many events for tourists with live music.

San Candido and Alta Pusteria do not only offer sports and nature, but also numerous interesting sights of historic and cultural interest, which attract tourists from all over the world. Visit the only Roman church dating from the 12th century in the entire Eastern Alps, the popular Collegiate Church in San Candido, this is almost a must in this area.