The Passiria valley
From the spa town of Merano the River Passiria branches off in a north-easterly direction and extends from there some 38 km into the valley known as Passiria valley. To the east of the valley lie the Alpi Sarentine and to the west it is surrounded by the Tessa Mountain Group; it is connected via Monte Giovo Pass with the Isarco Valley and via the Rombo Pass with Austria.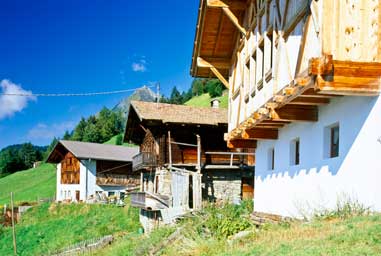 The higher valley, which reaches into the Tessa Group Nature Park, namely Alta Passiria valley, is a landscape which almost seems to belong to a fairytale, distinguished as it is by the encircling, protected natural wilderness and a population conscious of their traditions. The villages in Alta Val Passiria are Moso, the principal town; Stùlles, the sunniest village; Plata, which lies in the southern part of the valley; Plan with its skiing area and Corvara just before you reach the Rombo Mountain Pass.
The history of Passiria valley goes far back in time. There was already a road, built by the Romans, which extended from Maia, a village near Merano, over Passiria valley and the Monte Giovo Pass right to Vipiteno. This connecting route led to the huge development of the economy of the valley.
The mines in Monteneve, which were worked from 1200 until 1969, had a particularly defining influence on life in the Passiria valley. The influence of this mining area meant that a community with a school, a church and a hospital arose, where the miners' families lived.
Interesting buildings, which are worth seeing in the Passiria valley are the "Masi del Scudo" or shield farmsteads, which date from the 13th century. These are farmsteads, where the farmers were obliged to pay their rent in the form of military service for the feudal landowners, riding out in armour on horseback to battle. Apart from the farmsteads, they were granted freedom from taxation and the right to hunt and fish.
Racines-Giovo and Plan are two popular skiing resorts in the winter season. Both are well developed and their modern facilities satisfy the expectations of the most demanding visitors.
Whether you like active holidays, in which you make the most of the diverse free-time activities or whether you prefer to enjoy your holidays in peace and quiet, far from the madding crowded everyday routine - the Passiria valley holiday region is the ideal destination for your summer holiday.