Val Sarentino
The Sarentino community is located approximately 20 km north of Bolzano. It consists of 27 small harbours and is one of the most spread-out communities in South Tyrol. Sarentino has preserved ancient traditions and customs. The inhabitants mainly live off livestock breeding and agriculture.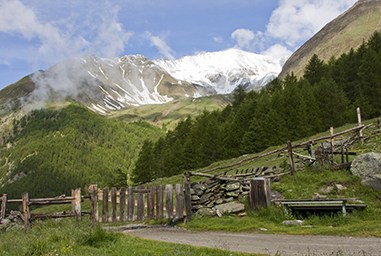 "Sarner" is the German name of the inhabitants, but the typical local costume is also called "Sarner". This is a special jacket made from sheep wool. The inhabitants of the village still produce clothes and accessories in the original way. One example hereof are the leather belts, which are decorated with peacock feathers and complete the traditional male costume. The typical costume from Val Sarentino is one of the most valued in the entire area.
The love and respect for old traditions is also closely connected to the processing of natural goods. The ethereal stone pine oil "Pinus sarenensi" is produced here. Thanks to its healthy characteristics it is also called the "blessed oil".
Val Sarentino however, also offers numerous attractions for those interested in art and culture. Visit for example the S. Maria Assunta parish church, which is located directly in the centre of the old town, or Reineck Castle, which thrones above the village. Definitely worth a visit are also the so-called "Stoanernen Mandln", the stone men from Val Sarentino:
these are the layered stones on the peak of Schöneck Mountain. According to an ancient legend they are surrounded by a mystic aura.