Alta Pusteria - Three Peaks
In Alta Pusteria you'll enjoy a great mix of colours, fragrances and history. In summer the landscape is characterised by innumerable green shades, and in winter it is characterised by white snow glittering in the sun. This makes you want to discover everything the region offers and to simply stay longer.

Coming from Brunico, the characteristic and traditional village Villabassa awaits you. Here is the turn-off into the Braies Valley with the popular Braies Lake.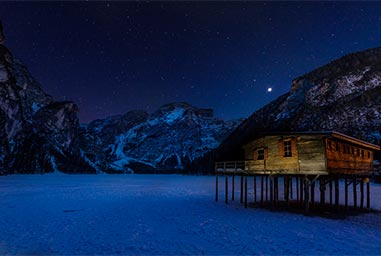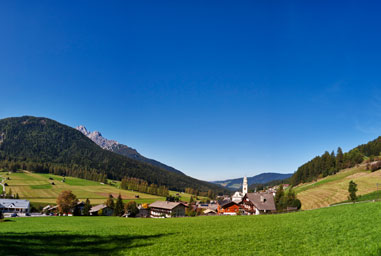 Afterwards you reach Dobbiaco, an old village with buildings dating back to the 16th century and the oldest Via Crucis in the whole of Tyrol. From a geographical point of view, Dobbiaco enjoys an advantageous location for all those who want to make use of all the sporty and cultural options in Alta Pusteria. Not far from here you'll find San Candido, an enchanting village with romantic and baroque treasures of art bringing you back to old times.
Summer and winter holidays in Alta Pusteria
Alta Pusteria is an ideal destination for all those who love to stay outdoors in summer and winter. A varied leisure time offer awaits families with small and big children. Everyone will find what they long for and enjoy unforgettable holidays.

In winter you can choose from comfortable walks, cross-country tours, toboggan adventures or ski tours surrounded by snow-covered summits in the giant Alta Pusteria ski resort with more than 1200 km of slopes.

In summer, Alta Pusteria turns into a green paradise, ideal for walks, hikes and cycling or mountain-bike tours.

If you want to take in the full beauty of Alta Pusteria's nature, you should visit the Sesto Dolomites Nature Park and the Fanes-Senes-Braies Nature Park. What you see and experience here is a very special adventure, which you will always remember and make your stay in South Tyrol something very special.

Alta Pusteria is also known as the Land of the Three Peaks, it has lots of historical and artistic monuments, pieces of art dating back to Roman, gothic, late baroque and Art Nuveau periods. Famous artists like Gustav Mahler, Clemens Holzmeister, Veit Königer and Rudolf Stolz have left their traces.

In addition to sports, Alta Pusteria also offers numerous opportunities to become acquainted with traditional customs from the past.

There is always a right season to visit Alta Pusteria!

Traditional Christmas customs await you in winter, and summer welcomes the sun and the most beautiful season of the year.