Sesto
Located at 1310 m above sea level at the bottom of the unique Three Peaks - this is Sesto in Alta Pusteria! Admire the popular mountain sundial in Sesto which is formed on five majestic Dolomite peaks, and enjoy your stay!
The village offers many leisure time options: one of the highest climbing halls in Italy, ski resorts and cross-country tracks, cycling paths and easy hiking trails to lakes, rivers and sights of historic and cultural interest. You should definitely also try the regional specialities, which are offered in fine restaurants and in simple inns.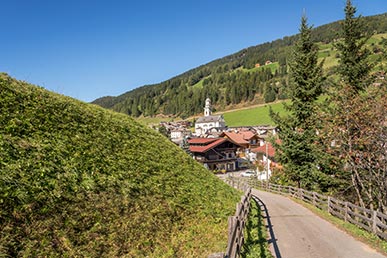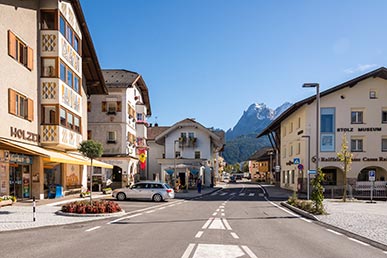 Sesto enjoys an enchanting location surrounded by larch and spruce forests and lush alpine meadows with scattered farms. A true paradise for all those who love the mountains, are looking for quietness and recreation, but are also looking for sports and fun.
When Emperor Otto I gave the valley to the Convent of San Candido in 945, the village was called "Sexta". Today, Sesto has approximately 2000 inhabitants and covers an area of 80 km² including the hamlets of Auβerbauerschaft, Auβerberg, Kiniger, Mitterberg, Moso, Schmieden and San Vito.

However, the history of this small enchanting village has not always been easy: between the 15th and 16th century Sesto was attacked by Venetian troops several times, and during World War I the region experienced serious battles. Traces of the fight can still be found at the Monte di Mezzo and Heideck Fortresses.

During the 19th century Sesto became famous as a mountain guide village.

The charm of the village is strongly connected to the unique surroundings, but also to the history and culture of Sesto. And this is the reason why Sesto is a village for everyone!