Meraner Land
The Meraner Land holiday region is part of the Burgraviato, which surrounds the spa town of Merano. This administrative district was originally the county of the rulers of the Tyrol and on the west bordered by Val Venosta, in the south by Bassa Atesina and in the north-east by Valle Isarco. The villages of Avelengo, Verano, Cermes, Lana, Marlengo, Nalles, Naturno, Plaus, Parcines, Scena, Tesimo, Prissiano, Merano and their surroundings, Val d'Ultimo to Alta Val di Non, Val Passiria and Val Senales form the various parts of this region.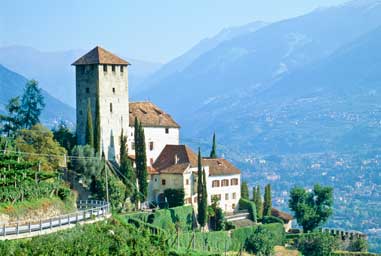 This diverse holiday region extends from the valley basin with vineyards and orchards to the snow-covered peaks at an altitude of 3000 m. This multi-faceted landscape, full of contrasts provides the setting all year round for a wealth of different leisure activities, ranging from skiing on the Val Senales glacier to swimming in the splendid parkland of the Merano Thermal Baths.
Meraner Land is a region steeped in history, the settlement of which reaches far back into the past. Among its visitors well-known personalities such as Empress Elizabeth of Austria and the poet Ezra Pound. With a wealth of castles and palaces, churches and museums, it also offers many cultural highlights.
In summer you can practise every type of sport in Meraner Land, including hiking, Nordic walking, rafting, climbing, riding, cycling and paragliding. For especially demanding visitors there are also two golf courses, one in San Leonardo in Val Passiria, the other in Lana.
In the winter season there is the choice of seven impeccably managed ski resorts, which await you with the most up-to-date lifts and facilities.