Fiè allo Sciliar
Fiè allo Sciliar is a very large community covering an area of 44.4 km² between Castelrotto and Tires. The community stretches from altitudes of between 315 and 2564 m above sea level. The main town is Fiè di Sotto at 880 m above sea level.
This small, enchanting and extraordinary village was very popular amongst the inhabitants of Bolzano as early as the beginning of the 19th century because of the health benefits of hay baths. The first official hay bath was founded in 1903 by the local tourism association. In a travellers' book dating from 1838, the village was praised as an "enchanting and healthy area with medicinal water and good accommodations". Due to its great location Fiè allo Sciliar offers many sport and leisure activities both in summer and in winter.
The village enjoys an idyllic sunny position with a splendid panoramic landscape. Interesting from a cultural point of view is the renowned Presule Castle, venue for many cultural events and the yearly "Oswald von Wolkenstein Ride". Two further fixed events are the "Völser Kuchlkastl" in October where you can taste traditional farmers' cuisine prepared in a modern and creative way, and the internationally renowned "Sciliar International Music Festival" (SIMF).
Explore the high resolution panoramic picture, zoom in and discover all the details with your mouse:
Click on the picture to start!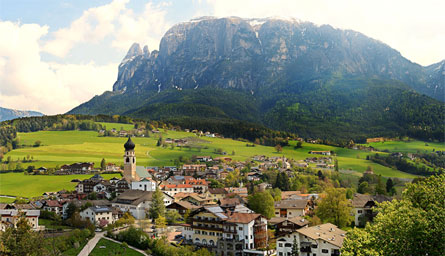 Explore Gigapan