Monguelfo and Tesido
Monguelfo, a village at 1087 m above sea level is positioned along the road leading to Alta Pusteria. Numerous archaeological findings provide proof of a settlement in this area during Bronze Age.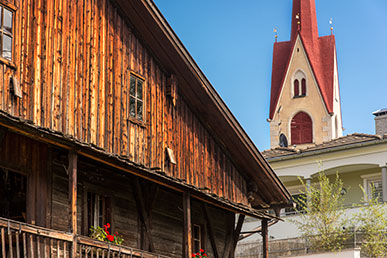 Monguelfo offers many cultural sights:
the renowned Welsperg Castle reigning on a rock;
the birth place of Paul Troger, one of the most important baroque painters in Austria;
the Santa Margherita Parish Church in the village centre, a baroque church with an altar picture by Paul Troger and a painting by Michael Pacher;
the Maria am Rain Church, which was probably constructed upon orders of the Welsperg family;
the shrine at Santa Margherita square, which was constructed by the inhabitants of the village in 1460 in order to be protected from the plague, flooding and fires. The shrine was in part flooded in 1882, but fragments of frescos by Michael Pacher can still be recognised on the pictures.
Tesido is located on a plateau above Monguelfo at the entry to Val di Casies, a side valley of the lively Puster Valley. The first settlement in this region was established by the Illyrians. The origins of the name "Tesido" is believed to come from the language of the Illyrians.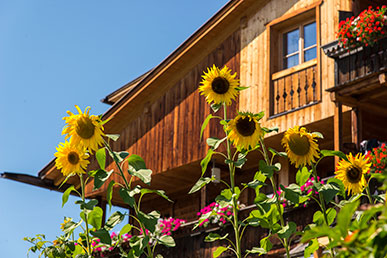 Not only does Tesido offer a recreational and scenic ambience, you can also choose from sporty activities like hiking on the numerous sign-posted hiking paths or dedicate your day to culture by visiting the following sights:
the parish church dedicated to the Saints Ingeniun and Albuin; The church was originally built in Roman style in 1150 and renewed in gothic style in 1493. The reconstruction of the church based on baroque style dates back to 1770;
the small S. George church; the church is believed to date from 800 and was constructed as a fortress and consecration site. The original walls have not been preserved; today's walls date back to the Late Romanesque period;
the extraordinary shrine with peaked roof, with paintings in the four arch alcoves representing Mother Mary with child, Cathrin and Margareth, the olive yard, Wolfgang and Martine, a scene from the Stations of the Cross, Andreas and Leonhard, a crucifixion group, and the church patrons of Tesido, Ingenuin and Albuin.