Valdaora
The community of Valdaora covers altitudes of between 981 and 2567 m a.s.l. and includes the hamlets of Valdaora di Mezzo, Valdaora di Sopra, Valdaora di Sotto and Sorafurcia. While the first three districts are characterised by a rather flat landscape, Sorafurcia is located at the bottom of Plan de Corones.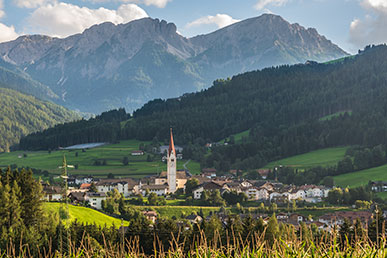 From this village located in the centre of the Puster Valley between Brunico and Monguelfo it is not far to the Fanes-Senes-Braies Nature Park and to the Vedrette di Ries-Aurina Nature Park. Thanks to the advantageous position, you can enjoy great walks and hikes in unspoiled nature with spectacular panoramic views, which provide an unforgettable adventure because of the wonderful peaks of Plan de Corones, Piz da Peres and Punta Tre Dita.
Valdaora di Mezzo is the main village of the community located at 1048 m a.s.l. Here you can visit the S. Egidio Parish Church with works by Michael Pacher and his student Simon von Taisten, and the memorial chapel of Peter Sigmayr, a hero of the Tyrolean freedom fighters born in Valdaora.
Valdaora di Sopra is located at 1080 m above sea level. This is the most eastern hamlet of the community. Interesting sights in the village are the Maria Assunta Parish Church dating from the 15th century, and the artificial lake of Valdaora, which is mainly used to produce energy, but is also very popular amongst fisherman.
Valdaora di Sotto at 1024 m a.s.l. has a beautiful parish church in the village centre. Here you can admire an altar realised by Michael Rasner, and a representation of the martydrom of Saint Agnes in the middle of the church nave.
Sorafurcia is located at 1344 m above sea level in the immediate vicinity of the cable car facilities. From the Gassl district near Sorafurcia you can take the cable cars leading to the Plan de Corones ski resort.