The Senales valley
The Senales valley is a fascinating and beautiful tract of land, steeped in history. The name of this valley, which is only 10 km from the spa town of Merano, goes back to the village of the same name at Senales River, which flows through the valley. Senales valley is distinguished for its extraordinary diversity of landscapes. At the entrance to the valley there are vines and orchards and the climate is so mild that even kiwi fruit and figs thrive here. At the other end of the valley you come across the thousands-of-years old glacier, which offers not only an awesome view, but also allows winter sports to be practised in summer.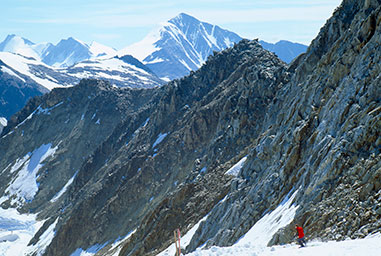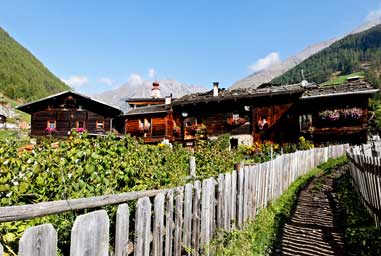 The valley comprises 5 villages, each different from each other and each special in its own right:
The village of ski lifts and ski slopes
The village named after the little church which can be se from afar.
The village named after the monastery constructed in 1326 by Carthusian monks
This has been a popular place of pilgrimage for more than 7 centuries.
This village is distinguished by its reservoir.
Winter and summer holidays in Senales valley
If you intend to spend your winter holidays in Senales valley, you will be able to enjoy 35 kilometres of slopes with 12 ski lifts to get you there. Snow-boarders are welcome in the Gentlemenriders Nitro Park. However, this winter sports resort offers ideal conditions for cross-country skiing, touring skiing, snow-shoe hiking, sledging expeditions and much more. A small skiing area, secluded from the classic winter sports resorts in the Dolomites, which will live up to your expectations!
In summer Senales valley wins you over with its diverse, original natural beauty and the Tessa Group Nature Park, the largest nature reserve in South Tyrol, which extends right up to Passiria valley. In this holiday area you can either relax and steal a glimpse into the typical, unadulterated life in the mountains or you can have an active holiday, with hiking, tours of climbing crags, paragliding, rafting or mountain biking.