Bolzano & environs: between tradition and modern times
Blooming vineyards and snow-covered mountains, lakes to swim in and raging rivers, rough winters and hot summers, tradition and modern times. Bolzano & environs is characterised by a mix of opposites, and a landscape, which changes in eachand every corner. The city still amazes visitors who have travelled a lot.
Bolzano, Laives, Renon, San Genesio and Val Sarentino, are also part of the region "Bolzano & environs". This is a varied and coloured mix of villages, which tell their past and present in different ways. A joint identity and many architectonic styles, a holiday place, which can be enjoyed with all senses, thanks to the fragrances, culinary deligths and melodies.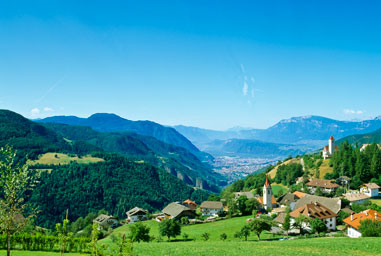 An example hereof is the delicious local cuisine - a pleasure of aromas and natural products. Another example is the music with traditional dances - a pleasure of customs, traditional costumes and colours. The land with its customs and traditions, which fully related to this modern city, forms this productive, dynamic and future-oriented area consisting of service, comfort and functionality.
The city of Bolzano is also a producer of wines like Lagrein and St. Magdalener, a city which is at the centre of the South Tyrolean wine culture. Selected events like the "Bolzano Wine Tasting" have taken place several times.
And the activities, sports options and the entertainment offer - varied options await you in summer and winter. While a vast network of hiking paths connects the most beautiful villages in South Tyrol during the most beautiful season of the year, the Val Sarentino and Renon ski resorts attract numerous skiers and snow sport fans during winter. And of course you enjoy a high-class culinary offer and cultural events and dance shows which meet the expectations of all tourists.
And this is also how varied the landscape is: wild with forests on one side, yet elegant and modern on the other. Be it sports or recreation, the tasty cuisine or culture: there is more than one reason to visit Bolzano and environs, more than one occasion to admire artistic and natural treasures.