Merano
Merano is the capital of the Burgraviato region and known as the spa town of South Tyrol. The city reaches altitudes from 263 to 1621 m a.s.l. and is located at the valley basin of the four important valleys Val Venosta, Val Passiria, Val d'Adige and Val d'Ultimo. The Passirio River flowing into the Adige River flows through the city.

Merano comprises the village districts Quarazze, Maia Bassa, Maia Alta, Sinigo, Labers and the old town. Merano is the second biggest town in South Tyrol after Bolzano. Merano is known for its mild and healthy climate, which is due to the protected position and the surrounding mountains.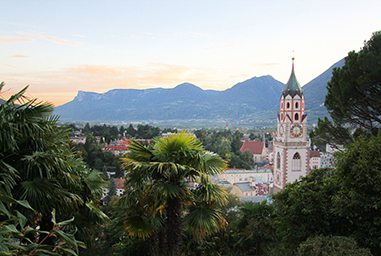 In this idyllic city you can visit lots of interesting sights, which originate from a rich historic and cultural past. Numerous interesting and extraordinary museums, opulent churches, historic castles and beautiful promenade walkways await you in Merano. A special highlight in the city are the Gardens of Trauttmansdorff Castle. Even Empress Sissi used to go for walks in these gardens.
The history of Merano goes far back into the past. During Roman times the place was known as "Maia". In Late Antiquity, Castrum Maiense, a settlement with fortress near today's Zenoburg Castle was located here.
Decisive for the development of Merano was the regime under the Counts of Tyrol from the 13th to the 15th century. When the counts moved their seat to Innsbruck in 1420, the city lost its power as an important economic centre, even though it remained the capital of the County of Tyrol until 1848.
In 1809 the Tyrolean freedom fights led by Andreas Hofer took place in Merano: on Monte Benedetto above the city the Tyroleans won the battle again the French and the Bavarians.
The development of Merano as a spa town dates back to the beginning of the 19th century, when the city got famous because of its healthy and mild climate. At the end of the 19th century the city became a popular meeting point for European nobility. Only in 1933 the radon content in the water was discovered and Merano became an air and bathing cure place. The new Thermal Baths of Merano was opened in 2005.