Perca
Perca, an idyllic mountain village in the Puster Valley at 972 m above sea level includes the hamlets of Vila, Vila di Sopra, Plata and Tesselberg. The village is located 5 km from Brunico in a quiet and secluded position at the bottom of high-alpine pastures at the side of the Rienza River.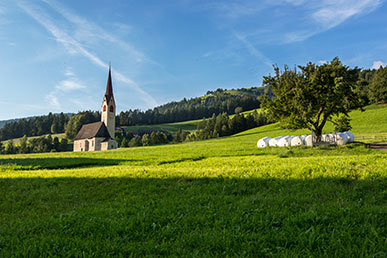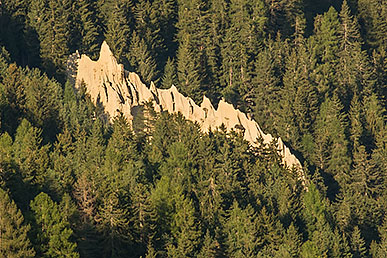 A blank milestone in front of the church provides proof of the presence of Romans. In order to understand the development of the village name, we have to consider documents dating from 862. The documents show, that the names of places origin from Bajuvarian settlements: the name "Vila" (in German Wielenbach) for example developed from the word "Wuolinbah", which means agitated river, and the name Perca origins from "Perchach", which means mountain river or birch forest.
Perca is ideal for anyone who wants to enjoy a sporty holiday in the mountains. The village is not far from the Vedrette di Ries-Aurina Nature Park, where you can enjoy beautiful hikes amidst protected nature, and you can visit the pyramids, a wonderful natural spectacle formed through erosion at altitudes of between 1550 m and 1750 m. And all those who want to enjoy a skiing holiday can quickly reach Plan de Corones.
In the hamlets of this enchanting village you can visit various churches:
The parish church in Perca

The church which is dedicated to Saint Cassian in the village centre was completed in Late-Gothic style in 1525. On the outer facade you can admire a representation of Saint Christopher. The church was destroyed during bomb attacks in World War II.
The Gothic church is not far from the village centre. It was constructed in 1474 and dedicated to Saint Jacob.
The church in Vila di Sopra
The church is located in the village centre. It was constructed in 1523 and dedicated to Saint Nicholas. Remarkable is the bell tower in the pyramid roof.
The Lerchera Chapel in Vila di Sopra
This small chapel at the entry of the village was constructed in 1673 with grotesque ornamentation.