Brunico
Brunico is the main town in the Puster Valley at 838 m above sea level. It includes the hamlets of San Giorgio, Stegona, Villa Santa Caterina, Lunes, Ameto, Teodone and Riscone.
The city is located at the shores of Rienza River with Plan de Corones, the main mountain of Brunico, reigning over the city. Plan de Corones attracts thousands of tourists in summer and winter.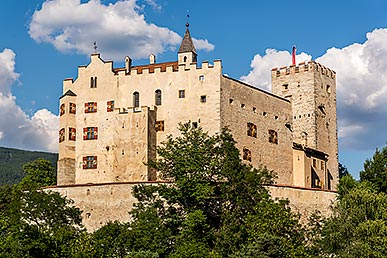 Brunico is an enchanting historical city with lots of interesting sights. Some are the Civic Museum, the castle and various churches of great artistic interest. Don't miss out on a stroll through the medieval old town with a lively and characteristic shopping street and picturesque buildings.
The village of San Giorgio at the entry to Valle di Tures was already populated during prehistoric times. Proof of this early settlement are various findings on two hills just above the village. S. Giorgio was an independent community until it was incorporated into Brunico in 1928.
Villa Santa Caterina is located north of Brunico at 840 m above sea level at the entry to Valle di Tures. In 2001 a flint blade was discovered in this little village just below the church.
The hamlet Stegona in the western part of Brunico is like the suburb of the city. Stegona developed however as a Roman settlement. Once a year in October, a huge market takes place. The history of this market dates back to the 11th century.
Teodone is located in a valley basin with roads leading to the Aurina Valley and Alta Pusteria. In this hamlet of Brunico you can visit the most beautiful outdoor museum in Europe, the Museum of Ethnography in Teodone.